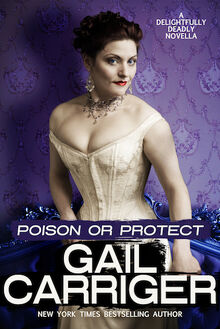 Gail's first foray into hybrid land, romance featuring a several-times widowed Preshea and the gentle Scottish captain who could change everything.[1]
Lady Preshea Villentia, the Mourning Star, has four dead husbands and a nasty reputation. Fortunately, she looks fabulous in black. What society doesn't know is that all her husbands were marked for death by Preshea's employer. And Preshea has one final assignment.
It was supposed to be easy, a house party with minimal bloodshed. Preshea hadn't anticipated Captain Gavin Ruthven – massive, Scottish, quietly irresistible, and… working for the enemy. In a battle of wits, Preshea may risk her own heart – a terrifying prospect, as she never knew she had one.
References
Edit
Ad blocker interference detected!
Wikia is a free-to-use site that makes money from advertising. We have a modified experience for viewers using ad blockers

Wikia is not accessible if you've made further modifications. Remove the custom ad blocker rule(s) and the page will load as expected.