Leticia Loontwill is the mother of Alexia Tarabotti, Evylin Loontwill, and Felicity Loontwill. She is married to Squire Loontwill and is the widow of Alessandro Tarabotti. Her maiden name was Leticia Phinkerlington she is the sister of Eustace & Percival Phinkerlington and the aunt of Everard Phinkerlington.[1]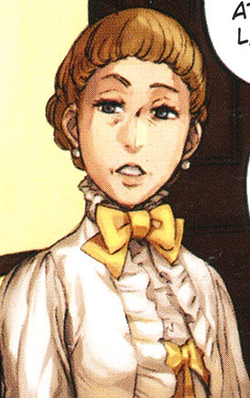 Appearance
Edit
Mrs. Loontwill is described as a diminutive blond with a rosy complexion. [2] She was young when she first met Alessandro Tarabotti in the short story The Curious Case of the Werewolf that Wasn't, the Mummy That Was, and the Cat in the Jar.
Personality
Edit
She is prone to wearing yellow and engaging in bouts of hysteria.
Mrs. Loontwill puts Alexia on the shelf at a young age, as her appearance was a disappointment. Mother and daughter have an acrimonious relationship. In Soulless, Mrs. Loontwill slaps Alexia in front of family and Lord Maccon.
Mrs Loontwill has gone from being a Baronet's daughter to marrying a simple Squire. Alexia's marriage to Lord Maccon causes Mrs. Loontwill transports, despite his werewolf status, he is titled so Alexia becomes Lady Maccon.
At her first meeting with Alessandro, she blushes at him significantly. Does this comment made by her brother refer to possible schooling at Mademoiselle Geraldine's? Her brother Baronet Percival Phinkerlington informs Alessandro: " ...that Leticia is not right about the head, seeing night crawlers everywhere and wakes up screaming."
In the books
Edit
Soulless Edit
Changeless Edit
Blameless Edit
Mrs Loontwill does not give Alexia shelter in Blameless when Alexia has left her husband and causes a scandal with her pregnancy.
Heartless Edit
Timeless Edit
Leticia Phinkerlington is the younger sister of Baronet Percival Phinkerlington and claviger Eustace Phinkerlington. She is aunt to Percival's son, Everard. And great aunt to Everard's daughter, Aggie.
Alessandro Tarabotti, her first husband, is responsible for the corruption of her oldest brother, Eustace, who left his title to become a claviger. (We do not know if he successfully becomes a werewolf but this is unlikely.) Alessandro is also responsible for the death of Leticia's other brother, Percival. He may, or may not, have married her because of a guilty conscious. Alessandro was likely never faithful to his wife.
After the birth of Leticia's first daughter, Alexia, Alessandro Tarabotti had little to no further contact with his wife. Preternaturals cannot share the same house. It is possible that Leticia blamed the infant Alexia for a perceived rejection by her husband.
References
Edit
Ad blocker interference detected!
Wikia is a free-to-use site that makes money from advertising. We have a modified experience for viewers using ad blockers

Wikia is not accessible if you've made further modifications. Remove the custom ad blocker rule(s) and the page will load as expected.