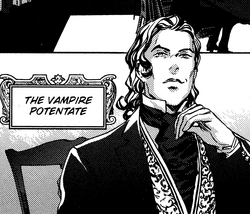 The
Potentate
during the
Finishing School series
as well as the Parasol Protectorate (
Soulless
through
Heartless)
before being killed by
Lord Maccon
.
Sir Francis Walsingham
served as potentate starting with Queen Elizabeth I's reign (April 1590, after his mortal death), driving the expansion of the British Empire through his knowledge of Roman strategy and supply management and skill as a spymaster.
He also served as the patron of Mademoiselle Geraldine's Finishing Academy for Young Ladies of Quality, and likely benefited from the services of the intelligencers trained by the school.
Appearance
Edit
Sir Francis had green eyes, a long face, and pretty hands.
Personality
Edit
In the books
Edit
Gail specifically chose the term "intelligencer" instead of "spy" for her Finishing School series because that was the term used during Walsingham's original service as Queen Elizabeth I's spymaster.
Her description of the potentate's appearance is also drawn on that of the real Walsingham.
He would have been 342 years old when he died, relatively young for a vampire, especially a rove.
Ad blocker interference detected!
Wikia is a free-to-use site that makes money from advertising. We have a modified experience for viewers using ad blockers

Wikia is not accessible if you've made further modifications. Remove the custom ad blocker rule(s) and the page will load as expected.