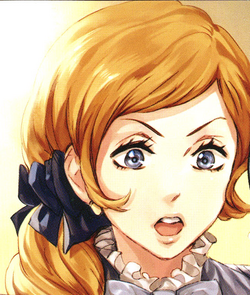 Daughter of Squire and Mrs. Loontwill. Middle sister to Alexia Tarabotti Maccon and Evylin Loontwill.
Appearance
Edit
Personality
Edit
In the books
Edit
Soulless Edit
Changeless Edit
Heartless Edit
Felicity becomes involved with the National Society for Women's Suffrage. She moves into the new Woolsey Pack residence in London as a result of her mother's disapproval of the association. Later, it is discovered that she has been spying on Alexia and acting as a drone for Countess Nadasdy, and that she hopes to court Lord Ambrose.
Blameless Edit
Timeless Edit
Felicity tells Lady Kingair about Professor Lyall's involvement with the Kingair Affair in hopes that her sister's involvement with keeping the secret will ruin her marriage.
"Felicity and Evylin were both quite beautiful: pale insipid blondes with wide blue eyes and small rosebud mouths. Sadly, like their dear mama, they were not much more substantive than 'quite beautiful." (Soulless, Chapter Two)
"The important question is, what will your wear for a wedding dress, Alexia? You look horrible in white." (Soulless, Chapter Fourteen)
"I never read if I can help it. It is terribly bad for the eyes. And it causes one's forehead to wrinkle most horribly, just there." (Changeless, Chapter Six)
"Felicity was horrible and snide, but then Felicity had been a repulsive earwig ever since she first grew a vocabulary." (Changeless, Chapter Seven)
"Lady Maccon cogitated. She would like to encourage this new spirit of social-mindedness. If Felicity needed anything in her life, it was a cause. Then she might stop nitpicking everyone else." (Heartless, Chapter Two)
"Felicity grimaced in agreement. "No, you are perfectly correct. I did not realize how vital the approbation of one's butler is in allowing for nocturnal autonomy." (Heartless, Chapter Two)
"If left together for too long, the two of them might actually take over the civilized world, through sheer application of snide remarks." (Heartless, Chapter Two)
"To be stupid was one thing; to be stupid and evil yielded up untidy consequences." (Heartless, Chapter Thirteen)
"She was the type of girl who would show her neck to a vampire one moment and her ankle to a chimney sweep the next." (Timeless, Chapter Two)
Ad blocker interference detected!
Wikia is a free-to-use site that makes money from advertising. We have a modified experience for viewers using ad blockers

Wikia is not accessible if you've made further modifications. Remove the custom ad blocker rule(s) and the page will load as expected.