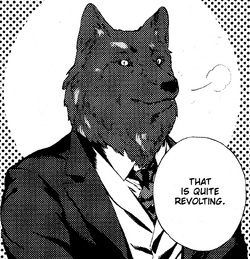 An Anubis form is a form that an Alpha werewolf is able to take, in which only the head is transformed to wolf form. This is the form that an Alpha uses in the creation of new werewolves, or metamorphosis. This is sometimes referred to as "bite to breed."
Female werewolves are rare and much harder to metamorphose, however they are ALWAYS Alpha's with Anubis form.
In Imprudence, 1895, Rue says she knows of only five Alphas in England capable of Anubis form: Lord Maccon, Sidheag Maccon (Lady Kingair), and "three others" (Chapter 5). It's unclear if one of these three is the dewan. (We know from the Waistcoats & Weaponry that he has it.) We also know from Timeless that Biffy has it. This means there are either six or seven capable of Anubis in England, as of 1895. Or it's possible that Rue simply doesn't know the reality of the situation.
Ad blocker interference detected!
Wikia is a free-to-use site that makes money from advertising. We have a modified experience for viewers using ad blockers

Wikia is not accessible if you've made further modifications. Remove the custom ad blocker rule(s) and the page will load as expected.